The typical process of terminating a service is depicted by the diagram below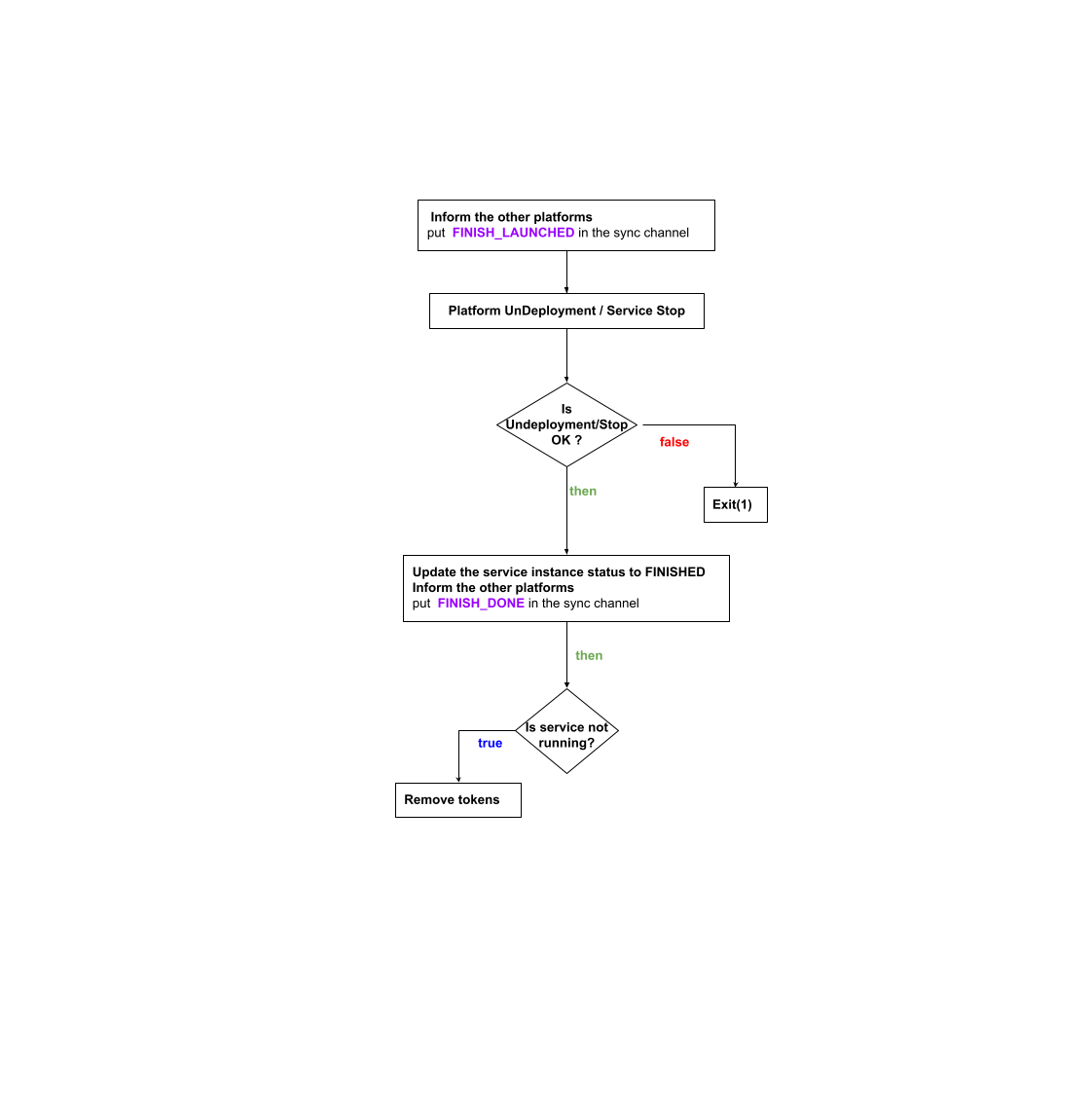 Create a new workflow. Here, some information stored in the current service (remember we pushed some info to the current service from the Spark deployment workflow) are required to clean the platform (Docker network name, deployment node names). As we did for the deployment workflow, create a first groovy task calling the Retrieve_variables_from_service_instance_id script (service-automation bucket). In our case we need the Spark Docker network name (to delete it) and the Spark master/workers node names (to clean the right nodes).

You need now to propagate the FINISHED_LAUNCHED event. We do it from another ProActive task by calling the Pre_Trigger_Action script (service-automation bucket).

Now, it is time to do the job: undeploy properly your platform, i.e. stop your service. Since Spark cover multiple nodes (as many nodes as workers), we achieve this using replicated tasks.

Do not forget to target the ProActive node hosting the Spark installation by using selection scripts and the NODE_ACCESS_TOKEN generic info.

From these same tasks, we propagate cleaning status variables for the next task.

In a new task, you will need to mark the service as FINISHED only if the platform cleaning went well. To achieve this, we gather all the cleaning status variables from the previous tasks and pass them to the Set_service_FINISHED_if_all_clean_OK script (service-automation bucket). This latter propagate the FINISH_DONE event if the cleaning went well. Otherwise it forces the job to exit with error.

In a last task, we need to remove the node tokens if the platform crashs, preventing the token removal from the deployment action workflow (from the loop script). To do so we call the Update_service_and_remove_tokens script (service-automation bucket).